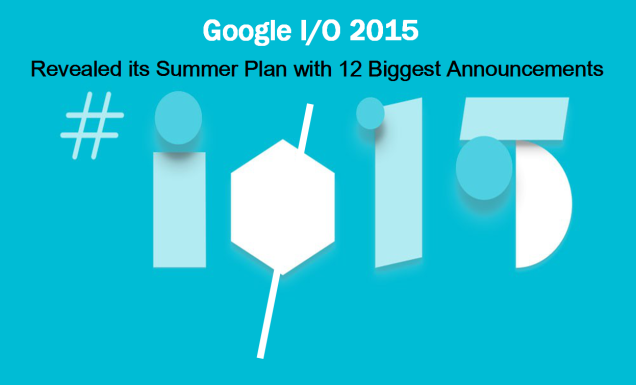 This time Google has something new and big for you to get excited. It's recently held Google I/O conference revealed almost everything for the benefits of android app developers, android users and iPhone users. Lots of updates are going to take place that will change your entire android experience. From Android design to apps to web smoother to Android wear and to Google Now – everything that has Android OS will replace itself with a new look and an improved user experience.
Let's have a quick look on 12 biggest announcements of 2015 by Google:
Android M
We have already heard about the launch of Android M and its updated features. During its I/O event on 28th May 2015, Google unveiled more secrets of Android M.
Less Intimidating App Permissions
Android build a wall of permission requests when you are trying to get access for locations or microphone usage. Soon, the wall will be removed or turn into small pieces to make your access as easy as possible.
Chrome in your Apps
Now your apps will redirect you to chrome browser whenever you click on any web link. Chrome will make pages load faster than any other browser plus it provides you an easy link to connect with other apps.
Improved Battery Life
Finally, Google begin its efforts for improved battery life. To make your smartphone work longer, Google has introduced a new feature named Doze. This feature will detect your smartphone when it remains inactive for longer hours to provide it a deeper sleep mode and save its battery.
Google Now on Tap
Google is making Google Now smarter. Google now on tap will bring all relevant information together to make you all available at a click. For e.g. if you got a mail from your friend saying you to go for a movie, you will get all movie details like its reviews, ratings, youtube videos, etc. together at one place.
Google's Photos App with Free Online Storage
You can save unlimited number of photos, and videos for free at Google's photos app. You can organize your stuff as a timeline or group them with their category – for e.g. naming "beach photos" to the group of photos with river area.
Offline Maps and Chrome
Chrome allows you to save pages and maps for offline usage. Don't worry about lost Google Maps online functionality as Google will give you bunch of features to share with you even at offline mode.
Android Everywhere
Other than smartphone, Google has some more products for you like Android wear. These products are also going to show some noticeable improvements.
Android Wear Polishing
Google is constantly releasing updates for Android wear to make it more and more user friendly. At conference, Google announced easier Uber calling with Android wear. It will polish the platform and make the apps able to remain always-on.
Smartphone Management
Google announced a project called "Project Brillo" where it will build an OS on the lower layers of Android. This system gives birth to communications between smart devices. So, not only apps, but soon, Google will manage smart devices as well.
Android Pay
After Google Wallet failure, Google is working hard for Android pay. Android pay allows you to make purchases through apps or activate NFC sensor to pay for physical goods. Android Pay is compatible with Android KitKat and higher versions.
HBO is on the Way
Instead of Android TV, Google is going to deliver HBO service where you can watch everything from Game of Thrones to True Detective. Sorry Guys, I don't have release date to share with you.
Virtual Reality
How can Google miss the future of apps and gaming world – the Virtual Reality.
iPhone Compatible Google Cardboard
A new version of Google Cardboard is going to win the hearts of iPhone users. Google is busy with making an SDK for iOS app developers as well as for Android app developers.
Virtual Reality (VR) Camera
Google has taken a good care of filmmakers who are willing to make Virtual Reality based Films. Google's VR camera allows you to make VR-compatible videos.
What's Next
Few products still remain to talk about. Android Auto, Project Fi, etc didn't get much importance at the event. However, we heard the intro mentioning participation of 35 car brands. Let's see where Google is going with this.